First Time Winner in Las Vegas
Quarter Horse News – Posted on April 4, 2019 by Kate Bradley Byars
From Emmett, Idaho, to Las Vegas, Matt Frederick hauled one horse roughly 10 hours to compete in his first National Reined Cow Horse Association (NRCHA) premier event — the Stallion Stakes. The drive was worth the time, as he and Smooth Dera Max claimed the Level 1 Open win from the 12 other horse-and-rider teams in the class.
"I've been to the Stallion Stakes before, just helping, and I was able to see what it was all about then, but being the guy entered on the horse, it is a little more nerve wrecking," the 26-year-old trainer said. "It's been a very good experience."
Owned by Harry De Haan, the 4-year-old gelding (Smooth As A Cat x Dera Dually x Dual Pep) has been with Frederick for approximately eight months. The two clicked, so Frederick opted to show under the bright lights of the South Point Equestrian Center.
While it was Frederick's first major show, he already had a solid network of support.
"I've been training three or four years now, but this will be my first year showing horses at these major events. For the past few years, I've just been riding colts for people. Now, I am getting my chance to show," he said. "I used to work for Matt Koch at Wagonhound. Chris Dawson, Clay Volmer and Brad Lund … they all gave me some help. I'm fortunate to have guys like that on my team."
At the show, Smooth Dera Max performed as well as Frederick had hoped for, with a composite total of 640.5 (213/215.5/212), finishing 6 points ahead of the Reserve Champions — Trevor Carter and MC Cowhammer (Metallic Cat x Gunsmart Gay x Playgun), owned and bred by Bogle Brothers LLC, of Dexter, New Mexico.
"He is a really big stopper with lots of cow. He has lots of run, and runs really hard in his circles," Frederick said. "His stops are good and he changes leads really pretty. He is just a nice horse."
After so much success, Frederick planned to show the gelding at more premier events this year.
From Cutting Horse Central:
NRCHA Stallion Stakes
Level One Limited Open Champion – Matt Frederick, of Emmett, Idaho, was crowned the Level One Limited Open Stakes Champion at the South Point Arena & Equestrian Center.
April 4, 2019
Frederick piloted Harry De Haan's 4-year-old gelding, Smooth Dera Max (Smooth As A Cat X Dera Dually X Dual Pep), to a 213 in the herd work, a 215.5 in the rein work and a 212 down the fence. The 640.5 composite was accompanied with a $2,710 win check.
---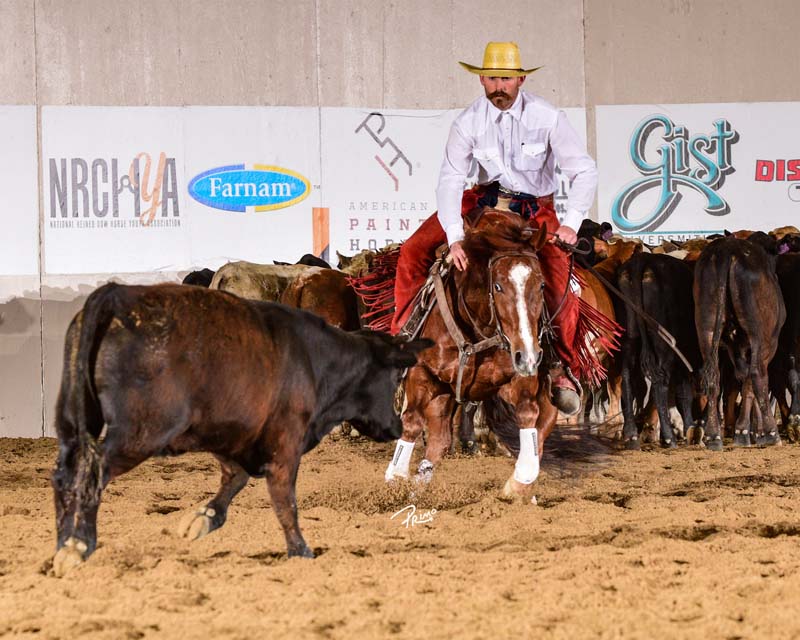 NRCHA Derby
Level One Limited Open Reserve Champion – Matt Frederick and Smooth Dera Max were the reserve champions in Paso Robles, California.
June 13, 2019
Claiming their second major NRCHA premier event title, Matt Frederick and Smooth Dera Max (Smooth As A Cat x Dera Dually x Dual Pep ) finished reserve in the Derby Level One Limited Open. Frederick guided the 2015 gelding, owned by Harry DeHaan, to a 644.5 composite and a $2,542 pay day."